Old German cars, we all love them, or hate that we love them, and or we love to hate them. The old and rare ones are hard to come by. If they're "cheap" expect to be replacing a lot of things or that it needs an engine. Something along those lines. (Also click on the photos to be brought to where they're from!)
BMW 8 Series
The 1990-1999 BMW 8 series (E31). We're talking specifically about the V12 version so the 850i/ci/csi. You could get a 4 speed auto/ 5 speed auto (depending on the year) or a 6 speed manual and the 850CSI only came in 6 speed manual. There's also the Alpina models, the B12 5.0 and the B12 5.7
These cars are rare now, and the oldest one you can get is now 31 years old while the youngest one you can get is 22 years old. Any of the maintenance that comes with a BMW that old is included along with the price tags. The cheapest ones I can find are around $10,000-$15,000 and the rest go up from there while the most expensive seem to top out at nearly $200,000.
Back when they were new that had a 0-60 in 5.9 seconds, the V12 is decently simple in comparison to others from my research and it mostly just seems to be the regular BMW maintenance costs that affect them asides from that the throttle bodies could be an issue and the seemingly "normal" BMW oil leaks. The pop up headlights may cause a headache because it's just one more thing to break. Electrical gremlins could very well rear their ugly heads and you do NOT want to buy one that's been sitting. Only about 30,000 of them were sold!
Audi S4: B6
My words of advice: Don't even think of getting one. The German V8 sounds nothing short of amazing and that can fool you into wanting one. But this is during the time of VAG auto group not knowing how to make a timing chain system if their life depended on it. Plastic guides just don't last. These are hard to find in good shape!
The B6 S4 was made for less than two years while the B7 S4 was made for three years. They use basically the same engine (both just as bad). Being that they're a nearly twenty year old car something you'll also have to deal with is the electrical gremlins. But as I said earlier the timing chains are the big issue and the worst part is that they're on the rear of the engine. In making sure your car runs for a long time you'll need to keep your ears sharp for timing chain noise and if you need to replace it you need to pull the whole engine out. You may want to do the clutch, engine mounts, and whatever else you see fit. Depending on the age of the engine you may want to di valves, seats and guides!
Never let one of these sit. On the forums I've seen that people like to let them warm up 15-20 minutes to make sure that the engine is fully lubricated. The timing chain job can run up to about $8,000 dollars. All the ones I seem to be able to find for sale are those that need that service done, need an engine, and or just lots of work for about $3,000 still. You'll also need to pull the front end apart to do almost any work on the car!
Volkswagen Phaeton
The Volkswagen Phaeton W12, The Volkswagen that was more Bentley than it was a Volkswagen. North America only got it from 2003-2006. Nearly no shops know how to work on it here and I wish you the best of luck finding a specialized shop to work on it that won't cost you a crazy amount either.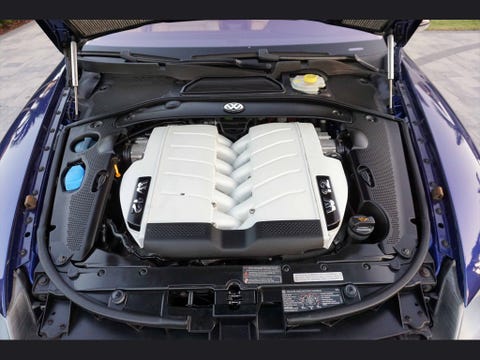 This is a car that many of the design team quit on. Only 2,253 of them were bought new so it's no wonder we stopped getting them in 2006. The W12's came with 420 horsepower which was silent and very smooth. According to research all of the launch editions arrived with defective sunroofs. This is where the electrical gremlins really reared their heads for Volkswagen, along with the Toureg. Heated steering wheel, massaging seats, five ECU's, and everything else in the car seems to be subject to having some sort of issue.
Having a Volkswagen with all the same things as a Bently at a much cheaper price point might excite you and I do not blame you at all.
Mercedes-Benz E55 AMG Wagon
These were only available in 2004-2006, with 469 horsepower and room for the family. There were only 193 of them brought to the United States. They only came in automatic, the supercharged engine is actually quite reliable.
This car's wallet hurting ability mainly comes from not being able to find one with so few of them being brought over the pond. I wish you the best of luck finding one of these rare beasts! The supercharger makes easy work of getting more power out of of the engine, throw on a smaller pulley, do some exhaust work and you're on your way to making even more power!
The pricey repairs center around the brakes (SBC braking system) and the AirMatic struts. Otherwise these cars are relatively bulletproof engine wise because they're hand built! Fuel pumps can get leaky and go bad. Make sure you get the transmission serviced/ make sure it's been done because if not you're in for a hell of a time! Sometimes the electronic controls for the seats can go bad.
If you want something that will sound good, look good, get you and your kids somewhere fast. This is the car!